Krushball is Trampoline Volleyball
While we enjoy similar games, nothing else compares to the intensity, feel, and excitement of Krushball.
As avid volleyball fans, we developed a new game using a full-size volleyball and custom trampoline designed with the highest quality materials. The game can be played either 2-on-2 or 3-on-3.
We've tested Krushball with professional beach volleyball players, college volleyball players, local Michigan brewers, rec leaguers, average Joe's, high schoolers, nieces, and nephews.
They like it, they love it, they want some more of it.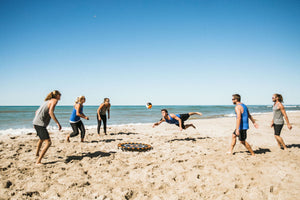 3 on 3
Grab your friends and get going. 3-on-3 play requires strategy, fortitude, inertia, and the heart of a lion. Like volleyball, teams have up to 3 hits to return the ball onto the tramp.
2 on 2
2-on-2 play is a test or as our teachers called it a "celebration of learning." It will test your stamina, teamwork, friendship with your teammate, and the level of fun you're capable of experiencing.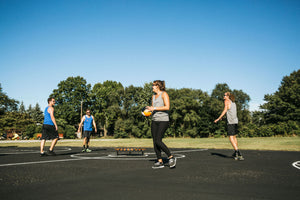 How is Krushball different than similar games such as Spikeball, Slammo, Spyderball, etc?
That is a great question! What's the difference between badminton and tennis, or tennis and pickleball? They are all very similar games that use a different type of ball and different type of net.
While Krushball has some similarities to these other games, Krushball uses a full size volleyball, a larger durable playing surface, and is a completely different game experience. We've optimized it for both 3-on-3 and 2-on-2 play. We've heard consistent feedback that Krushball is MORE fun and MORE intense than similar games.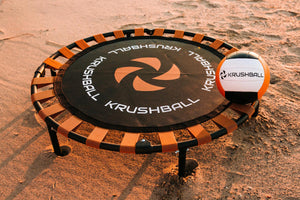 The Trampoline
We found that the standard 36" exercise trampoline didn't work well so we designed our own. We spent years designing and adjusting the patent pending Krushball trampoline and now have a working prototype. This 40" custom trampoline is built with a powder coated steel frame, long elasto-fabric bands, and an oversized nylon mat that makes for the optimal playing surface. This durable yet portable tramp is designed to break down and pack up easily. Our one-of-a-kind coupler pin style legs are designed to be easily removed after playing on any type of surface.
The Ball
Softness was key for us on designing the Krushball ball. No forearm bruises included with this puppy. It's soft, it's sweet, and it's spectacular.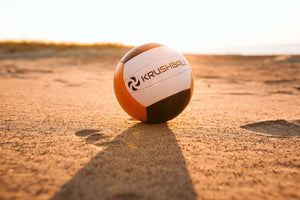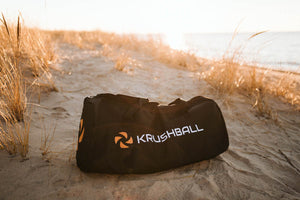 THE BAG
The Krushball canvas bag is durable, portable, and double lined to keep that precious cargo safe. You'll love to show off this new addition to your luggage set as you take Krushball with you wherever you go (note: baggage fees may apply flying with Krushball)